OiO, the first peanut oil in Italy
OiO was created in 1958 in the laboratories of the olive oil industry by the Costa family of Genoa as the first peanut oil produced in Italy, inheriting the rich experience accrued by the company with the Dante label.
The unmistakeable logo, formed by two Os and the frying pan with stylised goldfish, manages to become familiar right away, conquering the dinner tables of millions of Italians. Ideal for frying, OiO later manages to also find success as a dressing oil.
Its commercial success also comes with the television and the historic Carosello adverts aired on Rai (the Italian national television): from 1964 to 1969 with the sketches entitled "Bice racconta e dice" and starring actress Bice Valori, in 1971 with the Valori-Panelli duo. During the 1970s, the notes of the most famous Italian musical, "Aggiungi un posto a tavola" ("Set Another Place At The Table"), would provide the soundtrack to the new OiO Carosello.
After several transfers of ownership, the brand is finally purchased in 2007 by the Oleifici Mataluni Group along with the Topazio and GiCo labels, as well as some minor brands. The production is then transferred to Montesarchio (Benevento), where OiO products are still packaged by Olio Dante S.p.A.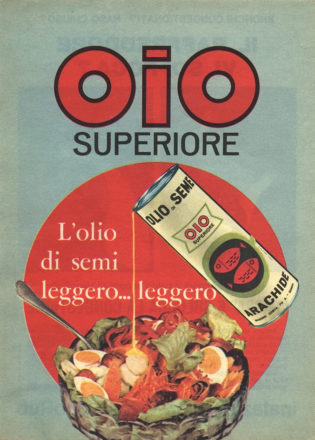 Hystorical advertising videos