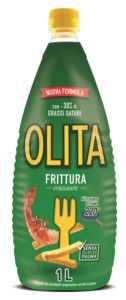 Olita, the historic brand depicted by a three-pronged fork and frying master since forever, hits on the GDO  shelves in a new package and with a new composition.
Starting from January, in fact, Olita comes to the market in a restyled packaging, and, once again, in the color that has made the brand popular: green. However, this is not just a restyling of the package, but also a completely new formulation with 30% less saturated fats content than the previous palm oil blend, which ensures a pleasant taste and a great resistance to high temperatures.
The new composition, made to always get browned and crispy fried food, is made of sunflower oil, high oleic sunflower oil, soybean oil and corn seed oil.
For all the tips to get a tasty and delicate fry, check out our new website at www.oliodante.com/olive-oil-education/  and make your cooking experience unique.
Olita is a trademark of Olio Dante S.p.A., a company among the leading producers of edible oils in the international scenario that can boast in its portfolio the most important Italian historical labels, such as Dante, Lupi, Topazio and OiO.